I've been doing reviews of books on writing and publishing for a few weeks now, so it's time to get them organized in one place before I have too much of a mess. These are all books I've read and felt were useful. Any book I can't recommend, I just won't review, so the average star rating is going to be pretty high.
Click through to the individual reviews for more info, including the book's table of contents, so you can see what it covers in detail.
WRITING

Becoming an Every Day Novelist
by
J. Daniel Sawyer
My rating:
5 of 5 stars
A nice variety of advice, organized in thirty days worth of chunks. Aimed at writers who want to write a novel in a month.
Read the review.
Writing Fantasy Heroes
edited by
Jason M. Waltz
My rating:
3 of 5 stars
A collection of essays by various writers. My main issue was that the title says "fantasy heroes" but in actuality the focus was on the Conan-type barbarian warrior, with a couple of exceptions. If you write the Conan-type, there'll be a lot in this book for you. If you write other kinds of fantasy heroes, there'll be some useful info, but not as much.
Read the review.
PUBLISHING -- PRODUCTION
Zen of Ebook Formatting
by
Guido Henkel
My rating: 5 of 5 stars
The bible of hand coding, for indie publishing writers who want to hand code their book files. Lots of great info, with details. Code samples scattered throughout.
Read the review.
PUBLISHING -- BUSINESS & ORGANIZATION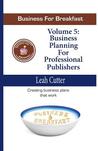 Business Planning For Professional Publishers
by
Leah Cutter
My rating: 5 of 5 stars for less business-oriented writers
A writer and publisher explains how to create a less formal business plan, for writers who don't think in spreadsheets. Lots of good info and organizational advice. Reviewed in conjunction with
The Writer's Business Plan.
Read the review.
Managing Your Inner Artist/Writer
by
M.L. Buchman(s)
My rating:
5 of 5 stars
A book by two artists, a writer and a photographer, on how to be businesslike with the business of your art, while letting your artist side do art without getting bogged down with business concerns. Short and dense, in a good way.
Read the review.
The Nine Worst Provisions in Your Publishing Contract
by
David P. Vandagriff
My rating:
5 of 5 stars
A lawyer with contract experience talks about the really bad stuff publishers will try to get you to sign. Vital for anyone going tradpub.
Read the review.
The Write Attitude
by
Kristine Kathryn Rusch
My rating: 5 of 5 stars
This book looks at how the way you think about writing and publishing can affect how you write and how you do business. Having the wrong attitude can kill your writing and/or your business faster than anything else. Definitely worth a read for any writer.
Read the review.
The Writer's Business Plan
by
Tonya Price
My rating: 4 of 5 stars for more business-oriented writers
This is a book written by a writer with an MBA on how to produce a formal business plan, oriented toward indie publishing writers. Lots of info, includes worksheets. Reviewed in conjunction with
Business Planning for the Professional Publisher.
Read the review.